2CV Guided Tour – Original and Friendly !
Specialized in original 2cv guided tour comment by our private animator-guide , our aim is to tell you all about Lille in an original way and in an authentik atmosphere.
  THE TOUR – TEAM BUILDING
Welcome by Tradi'Balade's team, time for fotos
A guided tour wich allowed you to discover anecdotes of the famous monuments and the well-known streets of « Vieux-Lille ». It history and architecture.
Stops in the streets of the old town and Porte de Paris to take some pictures.
Place of departure:
Rihour Square (in front of the palace)
Lenght:
at least 1H15
numbers of participants:
no more than 30 participants
Note:
Open every day from 9:00am to 9:00pm 2CV are convertible. During the tour every 2CV are following each others. The tour is animated by our private animator-guide Tradi'Balade
Concept Tradi'Balade:
live an unforgettable experience in Lille ! A 2CV guided tour with a pleasant animator-guide who knows the city. Your animator-guide will tell you anecdotes of Lille, it streets, buildings and events. An open-pit drive specificly in the streets of the old town wich allowed you to satisfy every of your guests.
Our Original Tours:
A team composed of competent animator-guide , pleasant and trained. Good knowledges of the 2CV and the city of Lille. Our 2Cv are well-preserved and convertible. A well-tought journey wich brings you to the streets of the old town. Both friendly and cultural our 2cv guided tour allowed you to live and share an unforgettable!experience in a friendly and pleasant atmosphere. Thanks to this guided tour your guest will discover anecdotes of the monuments and the well-famous streets of the old town history and architecure of the city.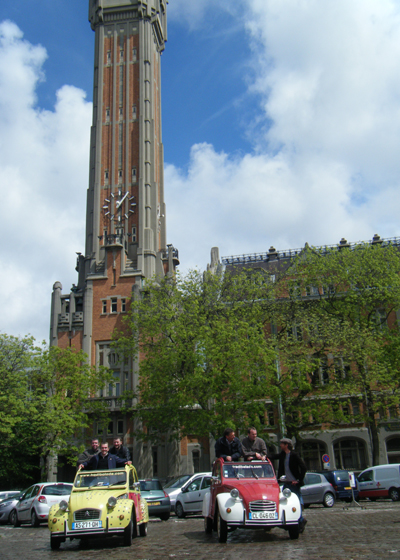 Our advantages:
1st at TripAdvisor classification (to read our reviews)
Open every day
Guided tour in english, french and spanish
Animator-guide are enthusiant professional and friendly
Charming streets of « Vieux-Lille » in a convertible 2CV
Additionnal services in the 2CV or after the tour:
Fotos of you during the tour
Local beer break
Local products tasting
Champagne Break at «Porte de Paris»
Typical lunch/diner in the « Vieux-Lille »
Basket filled with regional products
Sportive animation during or after the tour
Relaxation, well-being, qi gong animated by a professionnal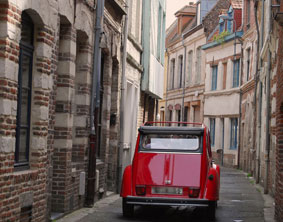 Ask Quotation
Tradi'Balade
28 place du Général De Gaulle 59000 Lille
+33 3 20 51 10 29contact@tradibalade.com